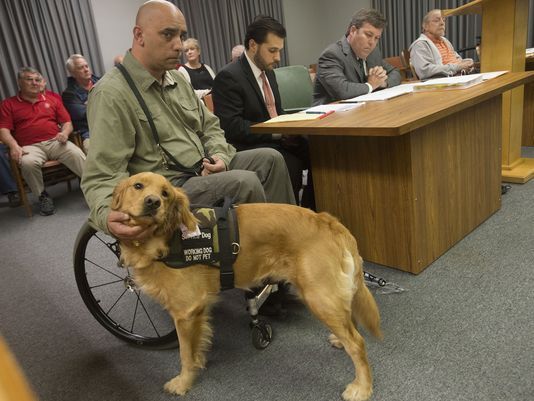 Army veteran Matthew Kopcsak has been paralyzed by a roadside bomb blast in Iraq in 2004. He claims that his landlord named Roger Dale Register violated his right to have a service dog accompany him in his rented home. Kopcsak filed the lawsuit in the U.S. District Court after waiting for more than 18 months for the other civil lawsuit he filed in Santa Rosa County Court to be resolved.
However, Register said that he is exempted from the federal Fair Housing Act since he only owns one rental property. He adds that the act only applies to those who own three or more properties. At the time that Kopcsak was to sign the rental agreement, Register made it clear that he wouldn't allow any dogs.
The federal lawsuit states that Kopcsak has experienced shame and embarrassment, as well as psychological distress, emotional and economic damages as a result of being deprived of his right to have a service animal in his home.
Register also happens to be a war veteran. He said that the dispute has also aggravated his physical disabilities and gave his family heartache and sleepless nights.
Article source: Pnj.com
Are you an owner of an assistance animal?
The Service Animal Registry of California invites you to have your assistance animal registered in order to designate its status. We also encourage you to take our online classes so you can be fully aware of your rights and gain more knowledge about your support animal.
Finally, we present to you our book entitled, "ASSISTANCE ANIMAL LAWS: LEARN YOUR RIGHTS REGARDING SERVICE ANIMALS, EMOTIONAL SUPPORT ANIMALS, THERAPY PETS, AND OTHER DOGS, CATS, AND ASSISTANCE ANIMALS" to provide you with a complete education on assistance animals.
Purchase your copy of the book by clicking the text or image below.
ASSISTANCE ANIMAL LAWS: LEARN YOUR RIGHTS REGARDING SERVICE ANIMALS, EMOTIONAL SUPPORT ANIMALS, THERAPY PETS, AND OTHER DOGS, CATS, AND ASSISTANCE ANIMALS