If you follow the easy instructions below, you will have your electronic PDF certificate within minutes! Please read through them before continuing below.
Step 1:
You will click the "register now" button below these instructions, which will take you to PayPal for payment of your registration fee.
The fee is only $38.87 (up to two (2) animals).
Step 2: IMPORTANT!
Be sure to click the "return to merchant" button on the PayPal page when payment is complete. Unless you click this, you will not be able to complete your registration instantly online, and will need to contact us to complete the process. (*scroll down to the bottom of the page if you had trouble with this step)
Step 3:
PayPal's "return to merchant" link will direct you back to this website, where you will then be able to access a data entry page. You will be asked to enter (a) the name of the registered owner, (b) the name(s) of the animal, and (c) the breed(s) of the animal(s). Review your typed data very carefully before hitting the "submit" button, since the data will appear exactly as you type it on your certificate. Look for spelling and capitalization errors before submitting.
Step 4:
Once you hit the "submit" button, a pop-up window will appear. Click the link to open your certificate for viewing.
Step 5:
Print your certificate (a color printer is highly recommended). Save the file to your hard drive for future use. The file may also be emailed to others as an attachment.
That's it! Click below to begin.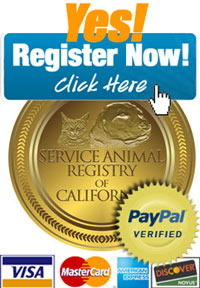 *Did you have any trouble after payment? For example, if you could not complete your registration because your browser crashed, your browser version is very much out of date, you have trouble using online forms, or if there is some other reason you did not complete registration after payment, simply go to your email inbox and forward your PayPal payment receipt to service@serviceanimalregistryofcalifornia.com, include the name of the registered owner, animal name(s), and animal(s) breeds as you want them to appear on your certificate, and someone will manually enter your data and send you your certificate within 48 hours.